As I announced in my first post about Cambridge, here's a new one about addresses! Some are restaurants' some are bars'. Food is something I really appreciate as I literally love cooking. That's why each time I'm going somewhere new, I really enjoy discovering great places to go to. I also absolutely love sunsets so here's a second reason why I like to find great places where to watch some! After a month in this great city, I would like to share with you my favorite spots.
First thing first, you must try the Varsity Hotel Rooftop Bar. There you can enjoy a drink with friends while watching the sunset (if you're lucky with the weather!). The Prince Regent Pub is a nice typical british pub where you can also enjoy a drink with friends.
---
Comme je l'ai annoncé dans mon précédent article, celui-ci est consacré à mes adresses favorites à Cambridge. Certaines sont des adresses de restaurants et d'autres de bar. La nourriture est quelque chose que j'apprécie beaucoup; en effet, cuisiner est un de mes passe-temps favoris. Ainsi, à chaque fois que je voyage, j'aime découvrir des endroits agréables pour manger ou simplement boire un verre entre amis. Après un mois dans cette ville, je souhaite partager avec vous mes adresses préférées.
Premièrement, vous devriez tester le bar-terrasse sur le toit de l'hôtel Varsity. Vous pouvez y boire quelque chose tout en admirant le coucher de soleil (si vous avez de la chance avec le temps). Le pub Prince Regent serait un autre endroit sympa pour boire quelque chose entre amis, cette fois-ci, dans un cadre très british.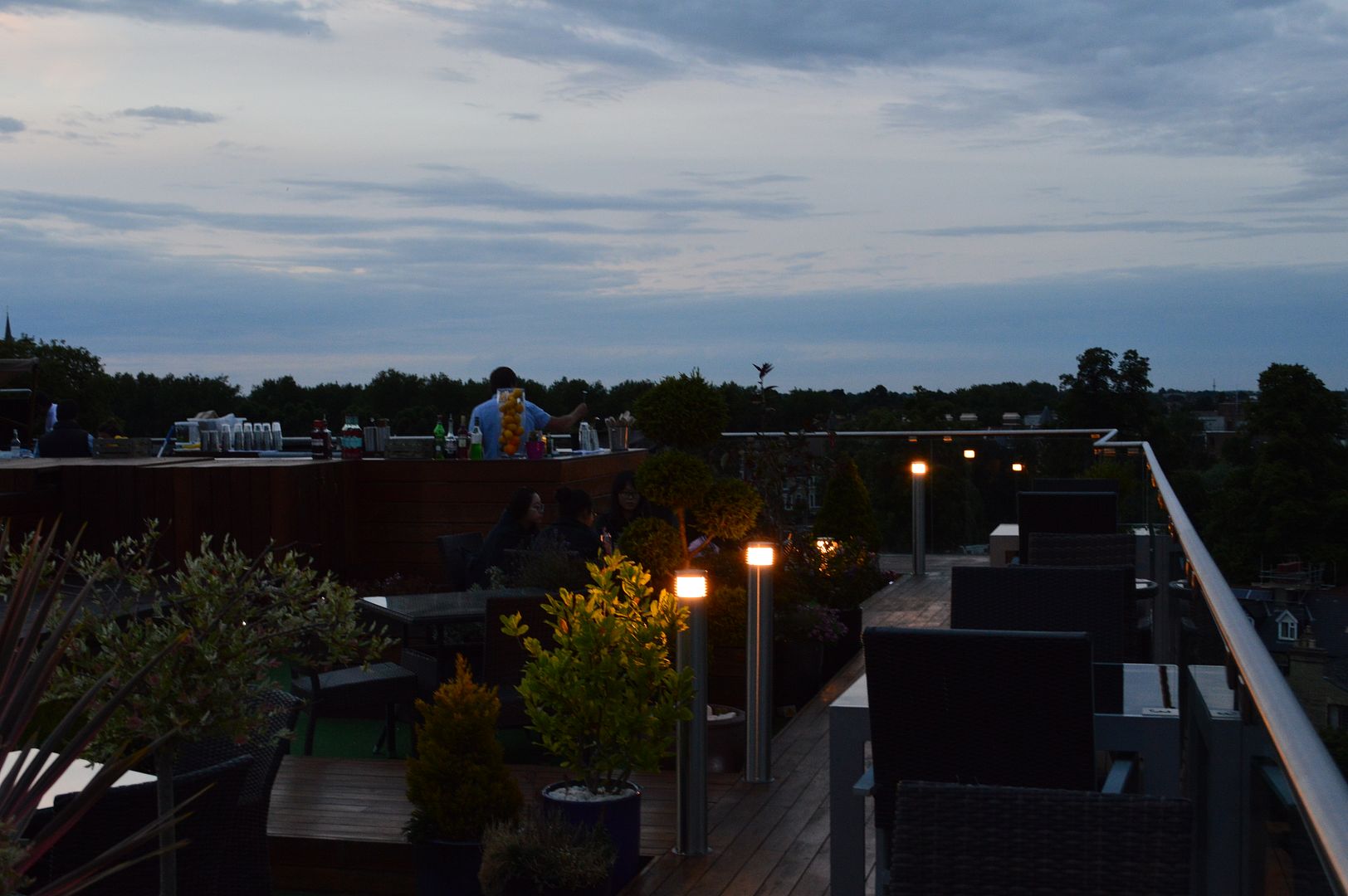 Varsity Hotel Rooftop Bar
TO EAT - if you're busy for lunch, you should try Aromi! You can find them in several places in Cambridge, it's really quick and you can find pizza and focaccia. They are really good!
Still for lunch, you need to try Espresso Library! The design is really modern and the style is minimalist, I really like the atmosphere. It's really nice and the food was very good. I tried their veggie burger: grilled halloumi burger without fries - perfect & so good!
Then for an afternoon tea you should either go to Harriets Cafe Tearooms which is really traditional or Bill's which is more modern. I tried at both places their scones, they were good! But Bill's is not only to enjoy an afternoon tea, they make everything from breakfast to dinner! We enjoyed a dinner there too! I also tried the veggie burger (halloumi again) with sweet potato fries! It was really good too but I might have preferred the one I tasted at the Espresso Library restaurant. If you want to eat a pizza for takeaway or eat in quickly, Charlie's Coffee Company is a really good place as well! But you should be careful with pizza sizes there…the small one is a bit too small for one but the normal one is huge! It is perfect for sharing! As this one was just under my flat, it was quite practical to take a pizza away to eat home for lazy nights! Do you have any addresses to share in Cambridge? I'm really interested, share yours!
As you might have noticed, I really really like halloumi cheese. I tried it for the first time in Cambridge this summer. I found some at the supermarket and cooked it at home! Since then, I love it! I had seen a lot of different recipes with it before but I never found it in Switzerland! Fortunately, now I can find it also in my country!
---
Pour manger - si vous êtes pressés à midi, je vous conseillerais de tester Aromi. Ils servent de nombreuses pizzas et focaccias très rapidement et vous les trouvez à différents endroits dans la ville. Toujours pour déjeuner, je vous conseillerais également Espresso Library. Le design est très moderne et le style minimaliste, j'aime beaucoup l'atmosphère. Leurs plats sont très bon, j'ai testé le burger végétarien au halloumi servi sans frites.
Pour prendre un fameux afternoon tea, vous devriez tester soit Harriets Cafe Tearooms qui est très traditionnel ou Bill's qui est plus moderne. Aux deux endroits, les scones étaient très bon! Bill's ne sert pas que des scones, ils font de tout, du petit-déjeuner au dîner. Nous y sommes également allées un soir. J'ai à nouveau pris le burger végétarien au halloumi mais cette fois servi avec des frites de patates douces. C'était très bon mais j'ai préféré le burger du restaurant Espresso Library.
Si vous voulez manger une bonne pizza en takeaway ou pour manger sur place rapidement, je vous conseillerais d'aller chez Charlie's Coffee Company. Dans ce restaurant, soyez attentif aux tailles de leurs pizzas: la petite est un peu trop petite pour une personne et la normale est bien trop grande. Je vous conseille de la partager! Cette pizzeria se trouvait en-dessous de ma résidence, pratique pour une soirée chill.
Avez-vous des adresses à Cambridge? Partagez-les!
Comme vous avez sûrement pu le remarquer, j'aime beaucoup le fromage halloumi. Je l'ai goûté pour la première fois cet été à Cambridge et j'ai adoré! J'avais vu de nombreuses recettes avec du halloumi mais je n'en avais jamais trouvé en Suisse. Par chance, je le trouve dorénavant aussi dans les supermarchés suisse - ouff!
ADDRESSES
Espresso Library - 210 East Road, Cambridge, CB1 1BG
Bill's - 34-35 Green Street, Cambridge, Cambridgeshire CB2 3JX
Charlie's Coffee Company - 44-45 Burleigh Street Cambridge CB1 1DJ
Prince Regent - 91 Regent Street,
Cambridge,
Cambridgeshire ,
CB2 1AW
Varsity Hotel Rooftop Bar - Thompson's Lane (off Bridge Street), Cambridge CB5 8AQ
Harriets Cafe Tearooms -

16 & 17 Green Street,

Cambridge, Cambridgeshire, CB2 3JU
Aromi - 30 Fitzroy Street Cambridge CB1 1EW & 3 Peas Hill Cambridge CB2 3PP & 1 Bene't Street Cambridge CB2 3QN
Enregistrer
Enregistrer
Enregistrer
Enregistrer